Children get an opportunity to grow in an enriching environment which boosts their self-esteem and makes them ready for the future.
A career mom is a multi - tasker and has breath taking moments all the time. She is focused on so many fronts simultaneously that she might miss out on the required needs of her child in a particular phase. She has to constantly strike a balance between home, kids and workplace in order to continue working without any guilt. Consistently delivering such an act can take a toll on her. This is something that she cannot do single handily.
THIS IS WHERE A RELIABLE AND ECONOMICAL DAY CARE CENTRE – LITTLE PEARLS DAY CARE, COMES INTO PICTURE.
We act as a home away from home. Founded in 1990, it runs under the guidance of experienced team.

CENTRALLY LOCATED IN NOIDA, NEAR BRAHAMAPUTRA SHOPPING COMPLEX, SECTOR - 29.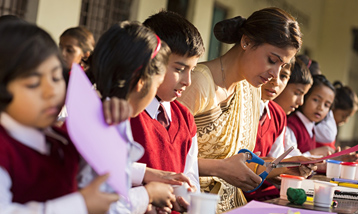 We are at close proximity to various formal schools and nursing homes. We also provide the service to pick up your child from the bus stop close to Little Pearls Day Care which is a major advantage because all the buses of formal schools from NOIDA AND GREATER NOIDA play on this route.
Our Day Care team is highly focused, alert and pragmatic and provides a tireless service. We provide a safe, secure and open environment to your precious one. We give intelligent and practical guidance and support to parents and children to achieve desired results.
---
Age Criteria -
12 months to 14 years
Timings -
9:00 am - 6:30 pm (on Saturday till 4 pm)
Working Days -
Monday to Saturday (2nd Saturday Off)